An Expert Climber Describes How Much You Are Loved
If you don't like heights, you may want to take a pill for vertigo before reading this blog post. I have this really cool, long-time friend who has climbed peaks all over Glacier National Park (which is in our back yard, so to speak.) He is part mountain goat. I invited him to write for us today, because I think you'll enjoy his amazing photography and his thoughts on God and your value in creation. Please welcome Blake Passmore.
I have felt God's presence in many different places.
While singing a mass in Notre Dame Cathedral in Paris, God's presence hit me like a locomotive. I was so overwhelmed I could not continue singing. He also visits me while I mediate and pray, but for me His presence is most noticeable on the mountains in Glacier National Park.
One particular peak holds special significance to me, and I first felt God calling me to hike there when I was a teenager. In 2004, I answered that call and stood on the summit of Heavens Peak.
Heavens Peak is one of Glacier's iconic mountains, and almost everyone can identify it when they drive up Going-to-the-Sun Road. In case there is any difficulty identifying it, there is a large sign with an arrow near The Loop.
The Blackfeet called this peak The Maker Where He Lives Mountain, and I can tell you that God's presence is there.
It seems that when I am on a summit I am just a little closer to the Creator, and that was certainly true while I was on the summit of Heavens Peak.
God used this mountaintop to help me clarify what is really important in life. He also reminded me that, at the end of it all, I am a small but very important, part of His plan for his Creation.
The apostle Paul wrote, in Ephesians 1:4:
Even before He made the world, God loved us and chose us in Christ to be holy and without fault in His eyes.
This is what boggles my mind.
God made all that I could see from Heavens Peak. He made the creeks, the clouds, the peaks, every single plant, and each unique melting snowflake.
The Bible says He loved me and chose me to be His forever and ever, long before He made any of what my eyes were seeing. When He sees me He does not see with the numerous flaws of my humanity; God sees me as He made me, in Christ's image.
Heavens Peak is truly a place where God lives, but most importantly He lives within my heart. Sometimes life happens, though, and I get a little far from His presence. But each day in Glacier reminds me that God is waiting for me, and He waits for you as well, to climb that mountain and feel His presence.
My prayer is that each day you will feel His presence in a fresh way. I encourage you to find your own "mountaintop" and see how much He values you today.
After all, He loved you madly long before He created Heavens Peak.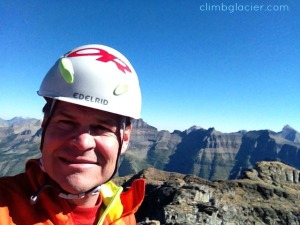 Blake Passmore has summited over 70 peaks in Glacier National Park. He is the author of six books about Glacier National Park. His goal for every book he writes is for the reader to be drawn to God's creation and to find a personal relationship with their Lord and Savior, Jesus Christ. You can find Blake's climbing books and his breathtaking photographs at www.climbglacier.com/shop.