Celebrating Your Good Kind of Busy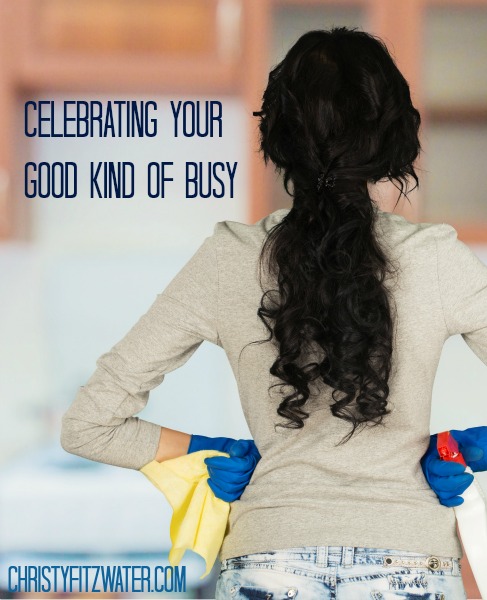 You know what? It was just a plain old week around here. Regular commitments. No vacations or exciting adventures. Makes it hard for a girl to blog, if I'm waiting for something profound to share with you.
But I thought of a teensy instruction for women, in Titus 2:5:
Be busy at home.
I did that. I cooked dinner every night this week and then did the dishes. Ran a load of laundry. Paid some bills.
I sprayed some Clorox on the oven hood and wiped off a few months' worth of nasty grime that had been driving me crazy.
Swept the kitchen floor a few times and emptied the bathroom garbage.
You know, homemaker stuff. Nothing to write on the internet about.
Except…
Being busy at home is just what God wants a girl to do. As I slide into Friday, it feels really good to know I've pleased the Lord this week.
Here's something interesting -I was looking for a picture to put with this blog post, so I typed in "woman working," and it brought up all kinds of pictures of women at computers and women in suits working in offices. Nothing wrong with that. I certainly put on dress clothes and go teach in a classroom every day. But what about the beautiful activity of a woman managing a home? It's kind of a lost art these days that is so valuable for our families.
Makes me want to grab a camera and capture a picture of you putting clothes in the washing machine.
Woman working.
Maybe your life seems kind of boring, like the gray, winter skies we've had around here lately that have hidden the thrill of the Rocky Mountains. But have you gotten some stuff done at home this week? Cleaned a few things? Organized here and there and folded some socks? Put together a recipe? It makes God happy if you've busied yourself with homemaking.
And there's nothing boring about making God smile.