When You Hate Your Personality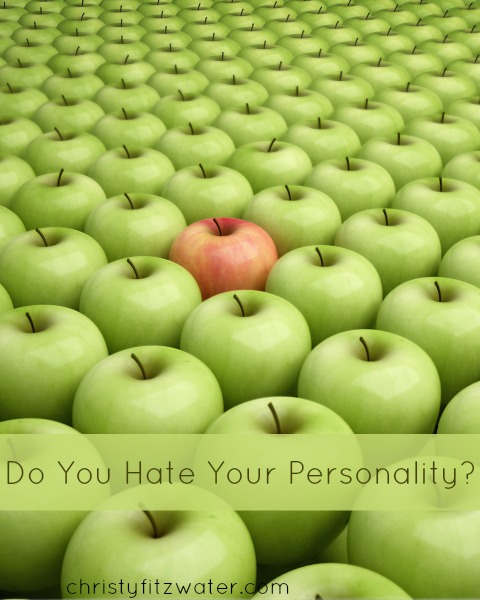 I don't know who you are –maybe the life of the party? The get-it-done-right? The serve-quietly-from-the-back?
As for me, I'm the bulldozer.
Sometimes this is good. Like when an old structure needs to come down and be carried away. Or when new ground needs to be dug up. Or when something needs to be pushed to a new place.
Sometimes this is bad. Like when I raze over the top of people, not seeing the fragile that needs to be picked up and carried with more of a soft-gloved hand.
All I know is that sometimes I abhor who I am.
Bulldozer in a China closet is more like it.
I wish instead that I were quiet like you or thoughtful like her or fun and not always so intense like him. I wish I could be anything but who I am.
But my husband holds me tight in the kitchen and says he likes me. He doesn't want me to change. He says when I have a bad moment, like a shouldn't-have-spoken-so-boldly moment in a meeting, all I can see is the bad side of me. But Satan is the one who condemns.
You are all bad, he says. He is a liar.
We all wish for a Freaky Friday -maybe if I were you and you were me? Then we would be perfect?
But I realize that to hate myself is to live in ingratitude to God. Didn't He shape me in my mother's womb? Didn't He put this bulldozerish brain inside me for a purpose? What He says to me, in my blubbering to Him about my failure, is that I need to daily allow Him to master my personality.
Paul says,
Now that you have been set free from sin and have become slaves to God, the benefit you reap leads to holiness…  (Romans 6:22  NIV)
Sin used to master my personality, but now God will master it. When my personality goes to an ill extreme, God calls it to my attention. I weep. I apologize to whom I need to apologize. I cry out to the Lord to shorten the rope that binds me to Him, so that the purity of His person rubs off on mine.
There is a benefit to putting our faith in Christ –the reaping of a holy personality.
Not so perfect today maybe, but a little more perfect than yesterday and a whole lot more perfect than a few years ago.
So until I get to that glorious, restful place of being a holy person, will you help me see the good God is doing in me when I can't?  And I'll purposefully overlook those unpolished spots in who you are, because I know the Master is refurbishing your personality, too.
And together we'll hold onto the sure hope of future holiness.