Why Keeping House Matters So Much Right Now
Those grown girls, my daughter and daughter-in-law, were chatting with me after our weekly Sunday lunch. The conversation turned to housekeeping, and I found out both of them watch YouTube videos of women cleaning–for fun. They watch them for fun.

"It's just so relaxing," Jayme said. Mallory agreed.
So there I was, a 53-year-old woman, trying to wrap my mind around the fact that women video themselves cleaning their homes and that twenty-somethings want to sit down and observe this, as a relaxing activity of choice. What in the world? So I went to YouTube and found one woman who makes cleaning videos that have close to 100,000 views per video! This is for real.
I get it, though. Last year was excruciatingly difficult, and I found myself unemployed and needing some income. With a spirit that felt like it had been scraped over a grater for months, I landed a job cleaning vacation rentals for several weeks, and it turned out to be therapy for which I received a paycheck.
Cleaning began to relax the tension in me that had been building for so long.
What is it about keeping house? Laundry, toilets, showers, linens, mopping, dusting, tidying, wiping, and taking out the trash. Aren't these the things we dread and avoid? Isn't this the work of which masterful procrastination is made? Aren't these chores the yuck and grunge of our lives?
No. No, no, no. Lies.
The act of keeping house contains healing properties. I know about healing properties, because I work in a compounding pharmacy now. We have walls lined with supplements. Just the other day someone came in asking for pine extract, and when I raised my eyebrows at this, the pharmacist kindly took time to tell me the ways in which pine extract benefits the human body. Who knew?
But we don't hear about how rich and healing the actions of housekeeping can be.
How does housekeeping benefit a woman's mind?
How does it benefit her body? Her spirit?
How does it benefit her family and her community?
May I suggest, in a time when the world is crumbling around the edges, that keeping house might even be just the answer for this raggedy world we're living in. It is possible that the great answers for continents and countries might not lie on the world stage but in the heart of a single woman who cares well for the core of her home. Healing properties from the inside out.
Yes, there is something soothing in the regular daily chores that need done in a house. Just last week I thoroughly cleaned our shower that was long overdue for a scrubbing. As the grime disappeared, the clean surface started to show through, and I felt something. I felt good.
Is there anything more we want right now than to feel good? To do good?
In those quiet hours I spent cleaning vacation rentals, the words for a book started to form in my mind, so I wrote them down for you. It's a collection of thoughts that came as I folded sheets and refilled toilet paper, and poured laundry soap into the washer. It's a book about housekeeping.
Don't groan. This is a warm book that is meant to be an encouragement to you, along with a few fresh ideas for house management. My heart is that it would read like the back label on pine bark extract–something natural that will help you feel better in so many ways. God has given us something good in the management of our homes, if we just take the time to refresh our perspective on how important this role is in our lives and the lives of those around us.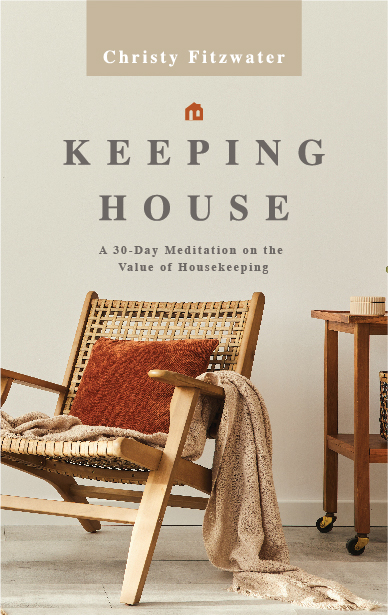 The idea of hating housework has been a whispered lie for too long. Let's turn a warm light on how you care for your home and all of the lovely benefits of your labor there.
More info →