Have You Thought to Ask God for Specifics?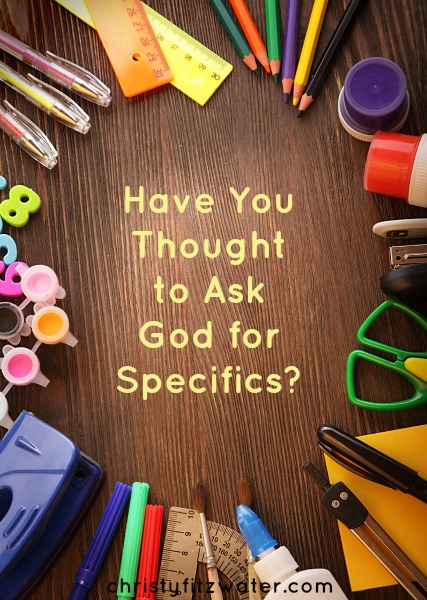 In The Incredibles, do you remember at the end when the son was in a race but had to try to control his speed? I feel like him.
My brain goes fast in one direction.
This past Sunday I wanted to rest, but my brain would not stop. Sometimes I wear myself out mentally planning Spanish and blog posts every waking moment. (If my brother is getting ready to tease me that it doesn't seem apparent I do much thinking, then this is me giving him stink eye.)
Lord, I prayed. I need a diversion today, so that I can actually stop my mind from working.
Normally Sunday is very slow and a quiet day at home, but the Lord changed things up.
First, we had a birthday lunch with my sister-in-law at Applebee's, because that is our family birthday celebration location. We laughed a lot, and the wiggly twin nephew sitting next to me was just what the Lord ordered.
Then I offered to help my mother-in-law and her sister by going to the church to clean up the Lord's supper dishes.
I'm not helpful very often. You should take me up on it, I said. And they did.
On my way to clean up the dishes, my friend texted and asked if I could play piano for the afternoon hymn sing at church, because the other pianist was sick. I love playing hymns and was already going to be at the church, so I cheerfully agreed.
For an hour and a half I played hymns and praised the Lord with my fingers.
I went home for a quick break and then returned to the church to see my nephew's Awana award ceremony. I was moved to see a stage full of little kids who together had memorized hundreds of verses over the year. I was even more touched by the small army of workers who celebrated over those kids and shamelessly sang songs with hand motions.
It was a busy day, and I went hours without planning any Spanish lessons or writing any blog posts or checking Facebook. I did no laundry and made no grocery list like I usually do.
By evening, my body and spirit felt not only rested but renewed, and this was a specific answer to prayer.
For years I helped plan VBS with my friend, and every year people would turn in their supply requests. They were never specific enough. We would always have to hunt them down and ask, So what SIZE dowel do you need? What COLOR of felt? What KIND of glue?
We often make the same mistake when we pray. We throw up a prayer for help, but we don't say what kind of help we're looking for.
And my God will meet all your needs, according to the riches of his glory in Christ Jesus.  (Philippians 4:19 NIV)
God promises to meet ALL our needs.
When we pray specifically for what we need in the moment, then it is even more fantastic when God answers our prayer. We become more acutely aware of how well he is listening to us and how able he is to supply.
So, what EXACTLY do you need today?