The Day I Found My Heart in The Laundry Pile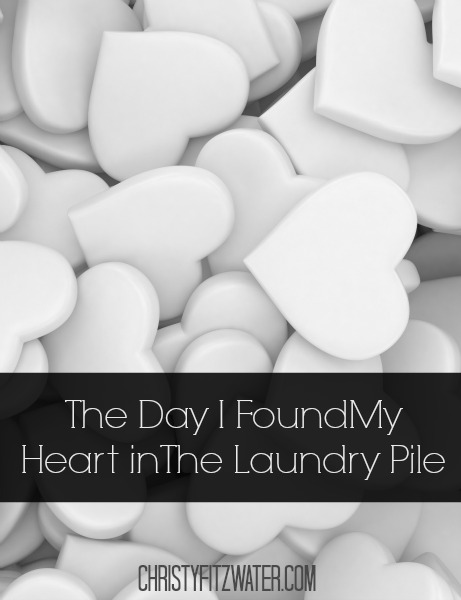 My way of doing things is to pull out the clean laundry from the dryer and get down on my knees to fold it on the floor. A few days ago I was matching up towel corners when a little paper heart fell onto my knee. I knew exactly where it had come from.
Last Wednesday was a Valentine's theme of "heart night" at Awana, and awards were being given to the kids wearing the most hearts. I say girls had an unfair advantage, with their heart-covered skirts and shirts. One curly headed girl and her grandma were estimating she was covered in over 8000 hearts. They must have been close in that guess.
So out fell this heart, and it made me smile.
It was evidence of where my own heart was, in valuing the work of sharing Bible truth and the good news of Jesus with little kids.
That got me thinking of signs that show what we really care about. Like when we put together tax information and see contribution statements from places where we feel our money is well spent for the Kingdom of God. Our souls show in hard numbers.
In Hebrews 11:1 we read:
Faith is being sure of what we hope for and certain of what we do not see.
And the rest of Hebrews chapter eleven? It's a list of heroes of the faith –descriptions of physical, visible evidence that people believed what they couldn't see. Their faith in Christ was something tangible that fell out of their towels.
This week on Facebook I saw someone had posted a picture of a little girl, maybe two years old, singing the popular song Hello. She was adorable, but it made me sad. I thought of all the Vacation Bible School songs and memory verse songs I taught my kids and how my faith made itself visible in the tunes my children sang around the house. Because I always cared that they knew Jesus.
I'm having a hard time finding the words to say to you, but I think investing is the word I'm looking for. Where and how are you investing your faith so that it will become something to touch one day. Something to see. Something real and substantial.
Don't we want the kind of faith?