This for The People Who Do Stupid Things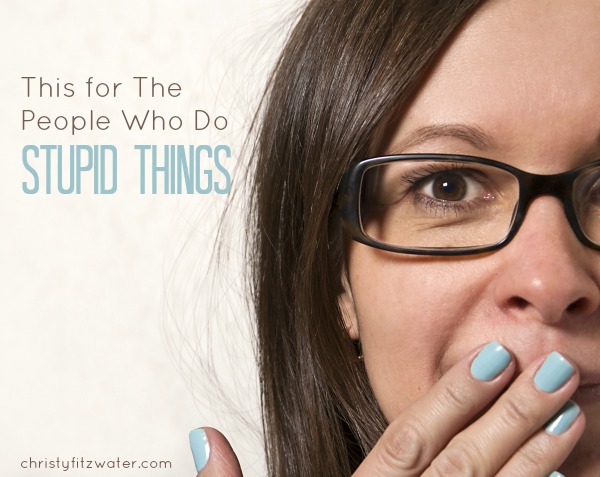 If you've read Blameless, you'll know I'm a recovering tardy person. So yesterday I got in the shower on time and made sure I was in the car and on the way to school by 10:45. This gave me enough time to get into the lobby and be ready for my two third-year students whom I teach at 11:04. I arrived in the fancy new lobby and sat down in an easy chair, so the girls could see that I had arrived not only early but with enough time to be at my leisure.
But I waited, and I waited. Students came and went but no sign of my Spanish students. Then it hit me.
I was so early, so magnificently punctual, that I had arrived on Tuesday for my Wednesday class.
My husband said I should write about this, and I asked what spiritual application I could possibly make. He said, "That sometimes we don't have our heads on straight."
(What is he trying to say?)
Here's what I'm gonna tell you, from Psalm 100:5(NIV):
The LORD is good and his love endures forever.
Reason with me here. God's love endures forever, which means if you're confused about what day it is, he still loves you. If you're looking for your cell phone, and then realize you're actually talking on it, God continues to love you. If you smash a bee on your windshield while you're driving, but you're not sure you killed it, so you can't let go of the napkin, and you look over and the guy in the truck next to you is laughing so hard that he has tears running down his face, God loves you even then.
One final piece of wisdom, and you may want to write it on a sticky note:
Today is Wednesday. All day.
And there is no stupid thing you could do today that could possibly stop the Lord from loving you. I speak with authority on this.
(This post may contain affiliate links.)