Do You Make This Mistake When You Pray?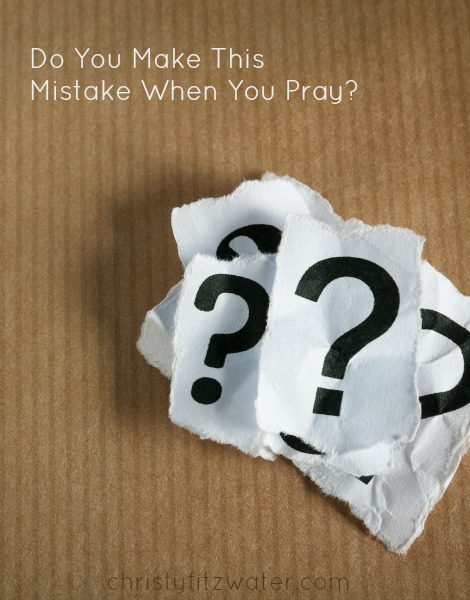 It didn't used to matter to me –whether the Awana kids said the question or if I did. I figured the important part of their handbook time on Wednesdays was if they could state the truth they were learning and then recite from memory the Bible verse to support that truth.
But then I considered the point made by Paul David Tripp, in Instruments in the Redeemer's hands, that often people get bad answers to their life questions because their questions are bad to begin with.
So now I'm that mean Awana teacher who insists the kids begin their recitation with the question.
"It's a kind of learning called a catechism," I tell them, "in which you say the question and then give the answer," Quickly I try to explain how important good questions are, before their eyes glaze over and they're like, Yeah, yeah, lady. Just listen to my verses, will ya? 
The kids don't understand, because they weren't there the day the squall came up.
Waves started to come over the edge of the boat, until everyone was sure they were about to die. So the woke up Jesus, who was asleep in the stern, and asked him a question.
QUESTION: Don't you care if we drown?  (Mark 4:38 NIV)

ANSWER: Jesus must not care or he wouldn't be sleeping. He wouldn't be doing nothing.
My Awana kids weren't there to see Jesus calm the storm by speaking to it. They weren't there to hear the disciples scolded.
Scolded for what?
Scolded for asking a faulty question that was devoid of faith.
So let's imagine that the disciples had taken care to formulate an excellent question –the way a teenager does who wants to borrow your car keys. Let's imagine the disciples had asked something that had caused Jesus to say, "Wow guys, because of your amazing show of faith, watch this." And then he would turn to the waves and tells them to be quiet.
I have in my mind the question they would have asked, but I'm not going to tell you.
As an exercise in good question asking, I want you to write down what you think they should have asked –either in the comment section below or privately on a piece of notepaper. Be thoughtful. What question would have pleased Jesus?
And then let's consider our own lives. Certainly we all are asking questions about what we're experiencing, but are they good questions that please the Lord with our faith?