Water for All in This Great Drought of Holidays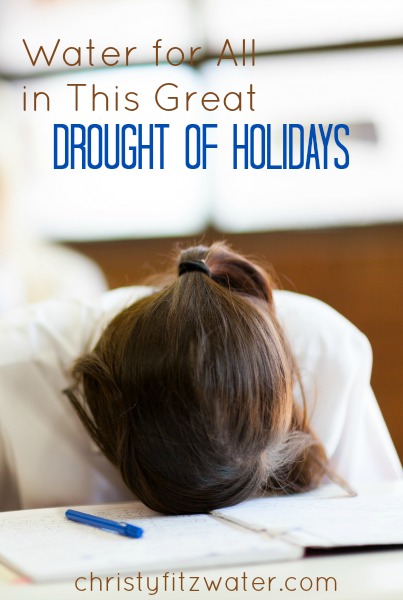 "Do you know where we are?" I asked my students. "We are in the middle of the third quarter. It is a miserable place, in which we are all worn out, and winter has lasted just a few weeks too long. Our skin is pasty white, and we are extremely vitamin D deficient. The work seems never ending, and there is no rest in sight."
Their heads moved up and down. Finally a teacher was making sense.
"If we can just hold on," I said. "Just a little bit more of a push, and then soon we will arrive at the place where we feel like we are not going to die."
"Do you feel like you're going to die?" I asked.
"Yes!" all around.
And so I turn to you, my dear friends. Maybe you're not in school, but you're tired.
Need.
A break.
Here's a song for the weary ones:
My soul, find rest in God; my hope comes from him.  (Psalm 62:5 NIV)
I cannot tell you when the sun will shine or when the work will get easier. I don't know when the burden you're under will be lifted. But I do know you don't have to wait.
The soul can rest in one look up to the Father –one prayer.
Come on, then. We're going to make it.